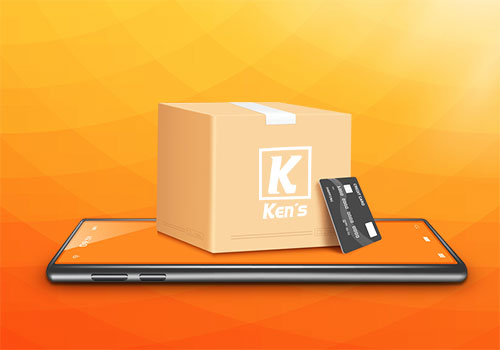 WARRANTY AND RETURNS

All goods purchased from kensmart.co.nz come with a 7 days warranty unless stated otherwise. Misuse, impact/water damage and wear and tear are not covered under this warranty. We will repair or replace any product under warranty as detailed in the Consumer Guarantees and Fair Trading Acts. If the same or similar product cannot be repaired or replaced, a refund on the product will be given. Please choose carefully when purchasing goods as we do not refund or exchange products if you change your mind or make an error.
Please contact us immediately by email at speedkenpark@hotmail.com if you believe your product may be faulty or have a genuine case to exchange and we will resolve this as fast as possible for you.
PAYMENT
Goods can be purchased from kensmart.co.nz using Visa, Mastercard, Debit cards only. All transactions are encrypted using SSL (Secure Sockets Layer) technology to protect your sensitive details. All prices shown are in New Zealand Dollars and include GST.


SHIPPING & DELIVERY
kensmart.co.nz do not currently ship outside of New Zealand and use Fastway Couriers to service the North and South Islands only.
Once you have finalised your order you will receive a confirmation email and order summary for your records.
We will always endeavour to deliver your purchase as quickly as possible (generally within 3-5 days), however once the goods are in the hands of our courier company, we cannot guarantee an exact delivery time.
Additional shipping charges:
From time to time we will have deals that require additional shipping charges due to their size or weight. We will clearly note this on the product description page and they will automatically be calculated when checking out.


PRODUCT INFORMATION
All product information on this website is sourced from our suppliers and we endeavour to ensure these are accurately maintained. We reserve the right to correct any misprints or errors.


SAFETY
For your safety, we encourage you to read all instructions, directions and manuals with care. kensmart.co.nz will not be responsible for any accidents or damage caused by misuse or failure to do so.


PRIVACY STATEMENT
Use of this website must be used subject to the following terms and conditions:

PRIVACY POLICY
Your privacy is important to us. All emails and information provided when you register is recorded in our database and is owned by New Zealand Speed Performance Program Ltd. 
New Zealand Speed Performance Program Ltd has given Ken's Mart Asian Supermarket permission to use the customer email and other relevant information provided for the following:

You have given us your permission - either directly or by not objecting; having been notified of our intention to do so
It is deemed necessary to assist a law enforcement agency or we are required/permitted to do so by law under the NZ privacy Act
This information will not be passed on, sold or rented to any third party without permission from Ken's Mart Asian Mart Ltd.
Ken's Mart Asian Mart Ltd reserves the right to share this information with an approved replacement company/website should it be deemed appropriate.

Should you wish to be removed from our database, simply 'log in' and click on the 'unsubscribe' button. A message will appear to confirm your request and this will be removed within 48 hours.

We reserve the right to update our privacy policy. If you register after/continue to use this website after any revisions, this is deemed to be acceptance of our privacy policy.

Should you have any questions regarding this policy please contact us via email at